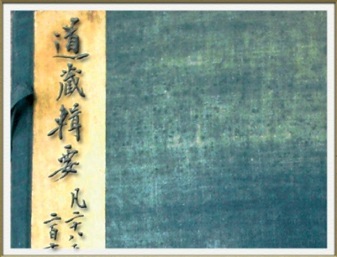 The Daozang jiyao Project was pioneered and directed by Dr. Monica Esposito whose departure in March 2011 is a tremendous loss to the project, initially hosted at the Institute for Research in Humanities, Kyoto University, and supported by the Chiang Ching-kuo Foundation (CCK) and the Japan Society for the Promotion of Science (JSPS). Its aim is to produce, organize, and publish knowledge about the Daozang jiyao (Essentials of the Daoist Canon), which is the most important collection of Daoist texts of the Qing dynasty (1644-1912).
As a result of a meeting held in 2011 at the Kyoto University, Professor Lai Chi Tim (representing the Centre for Studies of Daoist Culture, The Chinese University of Hong Kong) and Professor Kunio Mugitani, Dr. Christian Wittern (representing the DZJY Project, Kyoto University) have come up with the following agreement with an aim to bring the DZJY publication project to completion:
1. The Institute for Research in Humanities, Kyoto University will continue to work on the digitization (including input and proofreading) of the DZJY texts;


2. Professor Lai Chi Tim and the Centre for Studies of Daoist Culture, CUHK will take up the management of the publication of a companion to DZJY Project in a 3-volume set each in English and Chinese. The publication project is made possible by the support from Fung Ying Seen Koon Hong Kong.

In order to strengthen the management of the publication, the two institutes have agreed to set up an Editorial Committee to ascertain the academic quality of the abstract-submissions. The Editorial Committee members include: Lai Chi Tim, Kunio Mugitani, Wang Zongyu, Mori Yuria, Vincent Goossaert, Liu Xun, Paul Katz, Elena Valussi, and Kim Jihyun, Christian Wittern, Franciscus Verellen and Urs App are the Advisors of the Committee.

This international project enjoys the cooperation of prestigious research institutions like Academia Sinica Taiwan, École française d'Extrême-Orient France, etc. and support from 71 eminent Daoist scholars from all over the world.

The objective of the project is to share with the scientific community and the larger public:
A comprehensive analytic catalogue of the various editions of the Daozang jiyao;

High-quality digital texts of the Daozang jiyao's extra-canonical texts and their variant editions;

Development of innovative methodologies and research tools for producing and retrieving text-based information and organizing knowledge;

Preparation of data for thematic and bibliographic analysis and the production of dictionaries and lexica.
© 2006  Daozang jiyao Project,  Updated August, 2015